Special Events
Equifax Breach Resources
The Bank of Halls Equifax Breach
School Spirit Debit Card Funds Given to Halls High School
James Smith recently presented Halls High School and Halls High School Assistant Principal Jimmy Clendennin with a check from the proceeds of our School Spirit Debit Cards. Customers can get a Halls High School debit card for a $5.00 fee, all of which goes back to the school. You can show your school spirit and donate back all at the same time! Check with the bank for more details.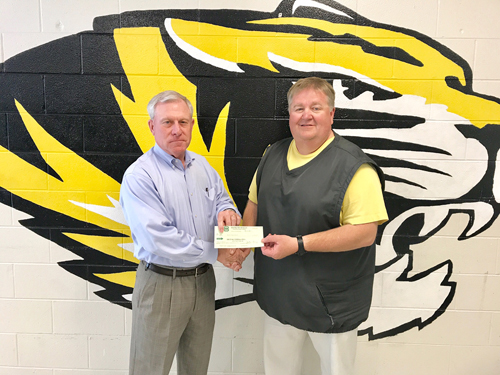 Relay for Life
Bank of Halls participates in Relay for Life by having several fundraisers throughout the year and partipating in the community event the night of. This past year, the Relay for Life tent theme was "Hope Around the World." We went with the theme Cataway Island in Fiji and dressd like the cast of Gilligan's Island. We won first place in the camp site categoy, first place in the Best Dessert Category for Rhonda Harris's fruit pizza, and second place in the Best Hat Category. Also, Barbara Jennings, an employee who is a cancer survivor, was chosen as an Honorary Chairman.
Christmas Holidays
At Christmas several employees participate in the Christmas basket event sponsored by the Rotary Club by helping fix the baskets and deliver them. We also have gotten together Santa for several needy children that we are aware of to help make these childrens' Christmas brighter.
Fall Festival
Each fall the Town of Halls has a fall festival week. We were asked to decorate our sidewalk for a scarecrow contest for the weekend. We all pitched in and brought different decorations to make a very attractive display. Our scarecrow had money symbols for its eyes, dollars sticking out of his overall pockets. A black crow on his shoulder, pumpkins, flowers, stalks of cotton and corn were set on bales of hay around him. We won a prize for our display.


© Bank of Halls
---